Paid Search, also commonly referred to as Search Engine Marketing (SEM), is a powerful way for businesses to gain exposure among prospective clients and consumers.
Traffic is immediate. Performance is measurable. ROI is easily tracked.
Within SEM, the primary form of advertising is via the search network using a pay-per-click (PPC) bidding model. This means you only pay for actual clicks on your ads as opposed to impressions.
Paid Search is when you pay to advertise a website within the sponsored listings of a search engine via pay-per-click (PPC) or cost-per-thousand-impressions (CPM).
One of the primary benefits to advertising on the search network is the ability to capture visitors at any stage of the customer-acquisition funnel. Through meticulous keyword research, purposeful targeting, strategic account structure and continuous refining, prospects can be pinpointed at each stage of their journey and served finely tuned, situationally relevant messaging. This results in high-performing ad campaigns.
Easy to get started. Difficult to master.
Barrier to entry is low. Anyone with a website to promote can set up paid search campaigns on one or all of the many ad platforms available. Achieving success and positive ROI, on the other hand, requires in-depth knowledge of search engines, keywords, consumer behavior, and know-how of each ad platform's capabilities and limitations. This is a never-ending process. Mad Fish Digital has — and continues to — run successful advertising campaigns for businesses both large and small. In 2016, Google recognized Mad Fish Digital as a premier partner.

"Mad Fish Digital is hereby recognized as a Premier Google Partner in 2016 for earning Google AdWords certifications, successfully managing a significant AdWords investment, sustaining and growing a client portfolio, and setting up online advertising campaigns."
Only 3% of agencies received this prestigious certification, very few of whom operate in the Portland market. As a Premier Google Partner, Mad Fish Digital has access to industry trends, performance analyses, and competitive benchmarks via a dedicated Google team. For our clients, this ensures top-notch service and insights. Furthermore, Mad Fish Digital is able to receive access to beta features not yet rolled out to the public. When applicable, these features are passed on to clients and utilized to gain a competitive advantage. For more about this certification,
see our announcement
.
Our Approach to Paid Search
There are various ad platforms typically utilized in any given strategy, the most common of which are Google AdWords and Bing Ads. Both platforms include their own nuances and algorithms aimed at assessing ad campaigns for relevancy, effectiveness, and overall user experience. The better an account is optimized for these algorithms, the less an advertiser has to pay for each click. Mad Fish Digital treats every account as if it were their own. In the end, positive ROI is the only true measure of success.
Google AdWords
In Google AdWords, there are multiple campaign types: search network, display network, shopping, video, and mobile apps.
Search Network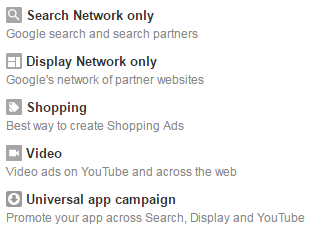 Serves ads to visitors within Google's (and its partners') search results based on targeted keywords. Ads are text only.
Display Network
Serves ads to visitors while they browse other websites based on keywords, demographics and interests. Specific websites can also be targeted. Ads are comprised of text or images.
Shopping
Serves product ads for eCommerce websites within Google's search and "Shopping" results.
Video
Serves video ads on YouTube and across the web via the Display Network.
Mobile Apps
Serves app-installation ads across search, display, and YouTube ad networks. (Also known as a "Universal App Campaign.")
Bing Ads
Bing Ads is very similar to Google AdWords in its structure and features. Available campaign types include search network, content network (i.e. display network), and shopping.
How We Structure Paid Search Accounts
Account structure is what makes or breaks performance. At Mad Fish Digital, campaigns are organized by objective and/or theme, then separated by keyword match type to better isolate top performers. Display campaigns — including Remarketing — are kept separate.
Our Approach to the Search Network
Within each campaign are tight-knit ad groups with a minimal number of keywords (sometimes only one). This allows for extremely targeted ad copy to be written, which leads to high click-through rates (CTR) and Quality Score as a result. The higher your Quality Score, the less you pay for each click on your ad.
Quality Score is based on three components:
| | |
| --- | --- |
| 1. Expected CTR | The likelihood that your ad will be clicked. |
| 2. Ad Relevance | How closely your ad matches the intent behind a user's search. |
| 3. Landing Page Experience | How relevant, transparent and easy to navigate your page is for users. |
Ad extensions are also fully utilized for every campaign. In Google AdWords, these include sitelink extensions, location extensions, call extensions, app extensions, review extensions, callout extensions, structured snippet extensions, and price extensions. In Bing Ads, these include app extensions, callout extensions, image extensions, review extensions, and sitelink extensions. Taking full advantage of ad extensions results in more real estate being utilized by your company in Google's and Bing's search results. This leads to a higher quantity of clicks. All of these things — combined with maximum bids — work together to influence Ad Rank. Ad Rank determines ad position.
Our Approach to the Display Network
Within Google AdWords, the Display Network can be a great way to advertise on targeted websites, and reach key demographics and interests. It can also be an easy way to spend a lot of money carelessly, which is why it is critical for placements to be closely monitored and excluded when irrelevant or of low quality. Each ad group within a display campaign is given strict targeting criteria in order to serve ads specific to each audience and accurately measure performance.
Remarketing
Also known as "Retargeting," Remarketing is a facet of the Display Network that advertises to previous visitors of your website. It is extremely cost-effective and often quite lucrative. Mad Fish Digital recommends this to almost every client. Whether via Dynamic Remarketing or through carefully crafted custom audiences, visitors are served ads relevant to the actions they have taken while visiting your website as they browse their favorite spots on the internet. Any website opted into Google's Display Network is an opportunity to display your Remarketing ads — including large websites such as CNN.
This is extremely powerful!
It can also be the perfect opportunity to offer discounts or free downloads of business collateral as an incentive for visitors to re-engage with your company.
The Importance of Ongoing Account Optimization
Even when an account is set up with a solid foundation, the need for ongoing optimization never subsides. At Mad Fish Digital, ongoing optimization of Google AdWords and Bing Ads includes the following:
Budget Management
Keyword Management Are certain keywords underperforming or eating through the majority of a campaign's budget? This is closely monitored to ensure that money is being spent efficiently and that no traffic is being left on the table.
Monitoring of Search Terms All search terms that have triggered ads are closely monitored for relevancy. Anything identified as irrelevant is added as a negative keyword to prevent it from triggering ads in the future.
Testing of Ad Copy Every ad group is always testing a minimum of two evenly rotated ads. This helps to achieve better CTR.
Testing of Landing Pages
Designing of Display Ads
Call Tracking
Reporting
Digging Beneath the Surface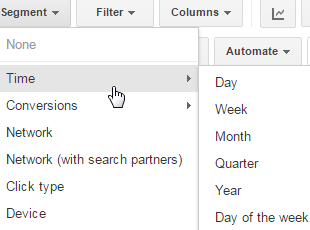 While looking at metrics such as impressions, clicks, CTR, conversions and conversion rates gives insight into the success of an account, also taking the time to dissect performance based on location, device, day of the week, time of day, click type and demographics — and optimizing accordingly — provides a big competitive advantage. While this level of PPC management can be difficult to find with many agencies, Mad Fish Digital incorporates all of the above into its ongoing management of paid search accounts. Whenever a new feature is released; whenever there is an opportunity to edge out competition — Mad Fish Digital looks to capitalize.
Ready to get started?