To grow traffic, internet content must be easy to digest, visually appealing and shareable. Infographics shine in all three areas. An infographic, or information graphic, is a visual, informative web feature that packs a lot of information into a single image.
Dazzle Web Users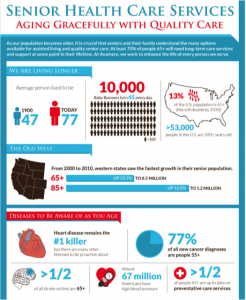 Web users love infographics because they make it easy to absorb information. Infographic creation is sometimes referred to as information architecture or data visualization – both terms convey the fact-heavy content of most infographics. Indeed, the whole idea of an infographic is to present oodles of data and facts in a format that facilitates our ability to spot patterns and trends.
View our portfolio of infographics
Improve Keyword Rankings
Beyond providing compelling content, infographics benefit SEO campaigns when they are shared among web users. A particularly clever, compelling or well-designed infographic will be shared far and wide, building your site's link portfolio and thereby improving keyword performance.
Our Infographic Development Process
Our infographic marketing services begin with keyword prioritization. We target keywords according to the client's needs and our own internal keyword research. Next, we craft a topic based on what people are talking about within the target industry and begin gathering resources from the web as well as from our client. After our expert content writers and designers create the infographic, the client manager sends it to the client for approval. Once we have an infographic that delights the customer and will appeal to web users, we distribute it online and track links that are generated from each infographic.
Content with Lasting Value
The resulting infographics created by Mad Fish are topical, informative, visually interesting and have lasting SEO benefit. Images are user friendly – a top SEO priority, according to Google's latest search ranking algorithm updates. Google and other search engines increasingly value author expertise when ranking web content. Infographics burnish your brand's authorship, amplifying SEO performance in the long term. Through Mad Fish Digital's infographic services, clients can produce high-quality web content that drives traffic while improving keyword rankings.
More on Infographics